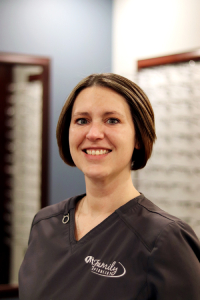 Brandy Day
Brandy, our insurance and billing specialist, has been with Family Optometry since 2011 . Sorting out insurance benefits can sometimes be confusing, but Brandy works hard to ensure that claims are processed correctly, and your insurance benefits are maximized.
In between filing claims, we often catch Brandy teasing and joking with her coworkers, adding to the fun of our office. Brandy is a Wabash native who enjoys spending time with her husband and their two children. She loves to read, make scrapbooks, and go camping.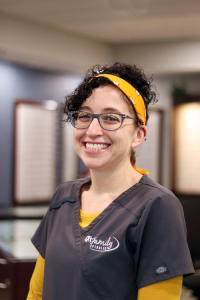 Valerie Music
Valerie has over 15 years of experience as an optician, and has been a vital part of Family Optometry since 2008. She enjoys helping patients with frame selection and contact lens training. She also assists the doctors by performing ordered tests such as fundus photography and optical coherence tomography that aid in the diagnosis and management of macular degeneration, glaucoma, and other ocular conditions.
Her laugh has become the unofficial soundtrack of our Wabash office. Outside of work, Valerie trains in karate and jiu-jitsu. Valerie has been married to Marion team member, Tommy, since 2001. They have two children, Tristin and Trinity.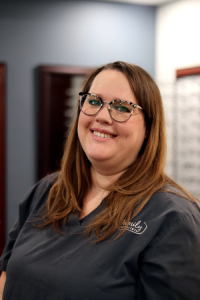 Megan Palmer
Megan has been with Family Optometry since 2017.  After initially serving in various capacities, she has found a permanent home as an optometric technician in our Wabash office.  She has been married to Derek, her high school sweetheart, since 2004.  Megan and Derek have 2 children; Gavin and Leeah.  After spending three years each in Georgia and Texas while Derek served in the Army, their family has returned to their roots in Wabash. Megan enjoys spending time with family and crocheting. She has coordinated blankets for soldiers returning from deployment and continues to look for ways to use her hobby to help others.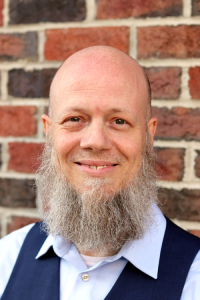 Tommy Music
A Wabash native, Tommy has worked with Family Optometry since 2011. and specializes in performing the preliminary testing that patients receive before seeing the doctor. He also assists patients ordering new glasses, aiding in the selection of new frames and helping people understand the various lens options available.
Tommy is a veteran of the U.S. Marines and recently had the great honor of traveling as part of Team USA to the World Martial Arts Games in Vancouver, Canada, where he won gold, silver and bronze medals.
We're proud of both the work Tommy does in our office, and his incredible accomplishments outside of work. He is married to Wabash team member Valerie and they have two children.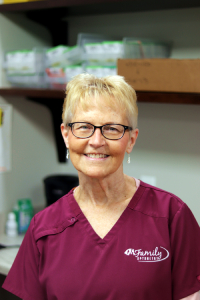 Deb Stout
Deb is a 35 year veteran of the optical field and has been with Family Optometry for fourteen years as our lab technician. While Deb helps out wherever needed, she now spends most of her working day in our in-house optical lab, where she cuts lenses with each patient's exact prescription to fit into the frame they choose.
Deb's kindness and sweet spirit are a blessing to patients and coworkers alike. She enjoys reading and baking in her free time. Deb feels blessed to still be working at a job she enjoys.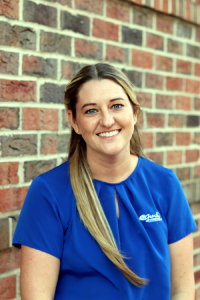 Emily Ramsey
Emily Ramsey, a recent Ball State University graduate, joined our family in July of 2015. Her professionalism and pleasant attitude make her the perfect fit for our Marion office. Emily greets patients, answers the phone, and finds appointments that suit the patients, maintains patient charts, and authorizes patients insurance.
She is a Marion native who enjoys traveling, running, and spending time with her husband and their two fur babies.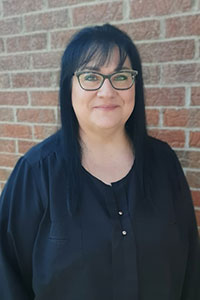 Leah House
Leah enjoys being the friendly face that greets patients as they enter the office. Her warm personality makes her a great addition to our team.
Leah will be the one who is most likely to answer the phone, schedule your appointment, call to remind you of your appointment date and time, and answer any questions you may have before visiting the office.
She was born in Wabash and has recently returned to the area with her three sons. Leah enjoys reading, spending time with her family, and going to see her brothers play in their rock band.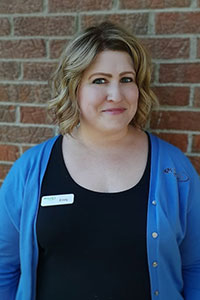 Emily Perkins
Emily joined our family in July of 2015. A natural "people-person," Emily enjoys preparing patients for their time with the doctor during pre-testing and helping them choose the perfect pair of frames.
Emily studied in the performing arts in NYC before returning to her Indiana roots. She can occasionally be seen on stages throughout the area when she isn't spending time with her family, especially her spectacular niece and nephews.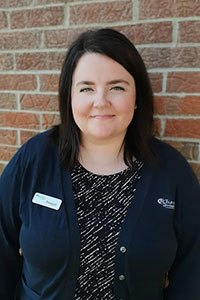 Meagan York
Meagan has worked as an optometric technician with Family Optometry since February 2020, and she is a treasured part of our team.  She is fantastic at making people feel at ease as she completes pretesting for the doctors at the beginning of the eye exam.  She also works in our optical area, assisting people with frame selection and explaining the different lens options that are available. 
Meagan is in an amazing relationship with her best friend and high school sweetheart.  Her favorite way to spend free time is to be with her closest friends and family.  Meagan enjoys crafting, experimenting with baking recipes, and making people laugh.
Meet Our Huntington Staff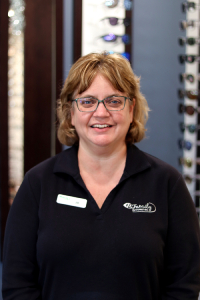 Jill Kline
Jill has worked in the Huntington office with Dr. Hughes since 1988, and became part of our Family Optometry team with the addition of Dr. Hughes' practice in 2018. Over the course of her career, Jill has developed expertise in nearly every area of the office, including conducting preliminary testing for patients, frame selection and glasses ordering, and office management. If you have a question, Jill probably has the answer.
Outside of work, Jill serves as a sign language interpreter and relishes the summer months when she can enjoy the water.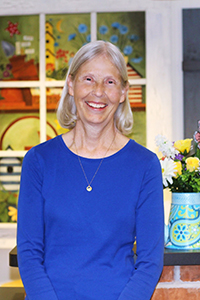 LeeAnn Kline
LeeAnn has worked in the Huntington office with Dr. Hughes since 1999, and became part of the Family Optometry team in 2018 with the addition of Dr. Hughes' practice. LeeAnn most often works at the front desk, warmly greeting and checking in patients. But she brings a variety of skills to our office, and you may also see her dispensing glasses or otherwise assisting with patient care.
LeeAnn loves being outside, and enjoys camping and spending time with her two children and six grandchildren.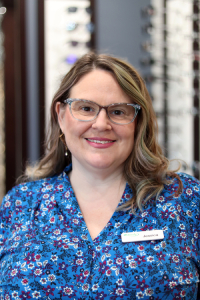 Jessica Miller
Jessica has served as an optician with Family Optometry since 2018, and has worked in the optical field since 2007.  Jessica is patient, taking time to listen to each person and understand their unique preferences and needs.  She takes joy in helping people find the right frame style, and her years of experience help her make any adjustments that might be needed for a perfect frame fit.
Jessica has lived in Huntington since 1998.  In her spare time, she enjoys spending time with her husband and their four legged "kids."  She and her husband are big Disney fans, and also enjoy going to Renaissance Festivals and spending time riding their Harley motorcycle.