In January 2018, the practice of Dr. J. Jeffrey Hughes became part of Family Optometry. Dr. Hughes consistently earned the trust and loyalty of patients in the Huntington area since the inception of his practice. He always took time to get to know his patients personally, provided excellent care, and was deeply devoted to both his patients and staff.  We were grateful for the opportunity to have Dr. Hughes as part of our practice until his retirement in December 2021.  Similarly, Dr. Eric Harman had been a fixture in the Huntington community for decades, providing quality care and genuine concern to countless patients over the years. Beginning in February 2020, until his retirement in April 2021, Dr. Harman provided that same patient care as part of the Family Optometry team.  The core values of both Dr. Hughes and Dr. Harman were a fantastic match for Family Optometry, and we are honored to continue their legacy in the Huntington community.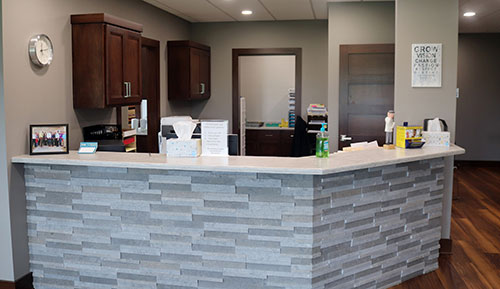 In February 2020, we moved into our brand-new, 3400 square foot facility. We are thrilled to bring a brand-new eye care facility to Huntington, with state-of-the-art diagnostic equipment and an expanded frame selection. We are conveniently located at 2880 Northpark Avenue in Huntington, just down the street from our previous location.
Our Huntington office is open 5 days per week, Monday through Friday, with late appointments available Monday evenings. Call our office at 260-356-6422 to schedule an appointment with one of our doctors!